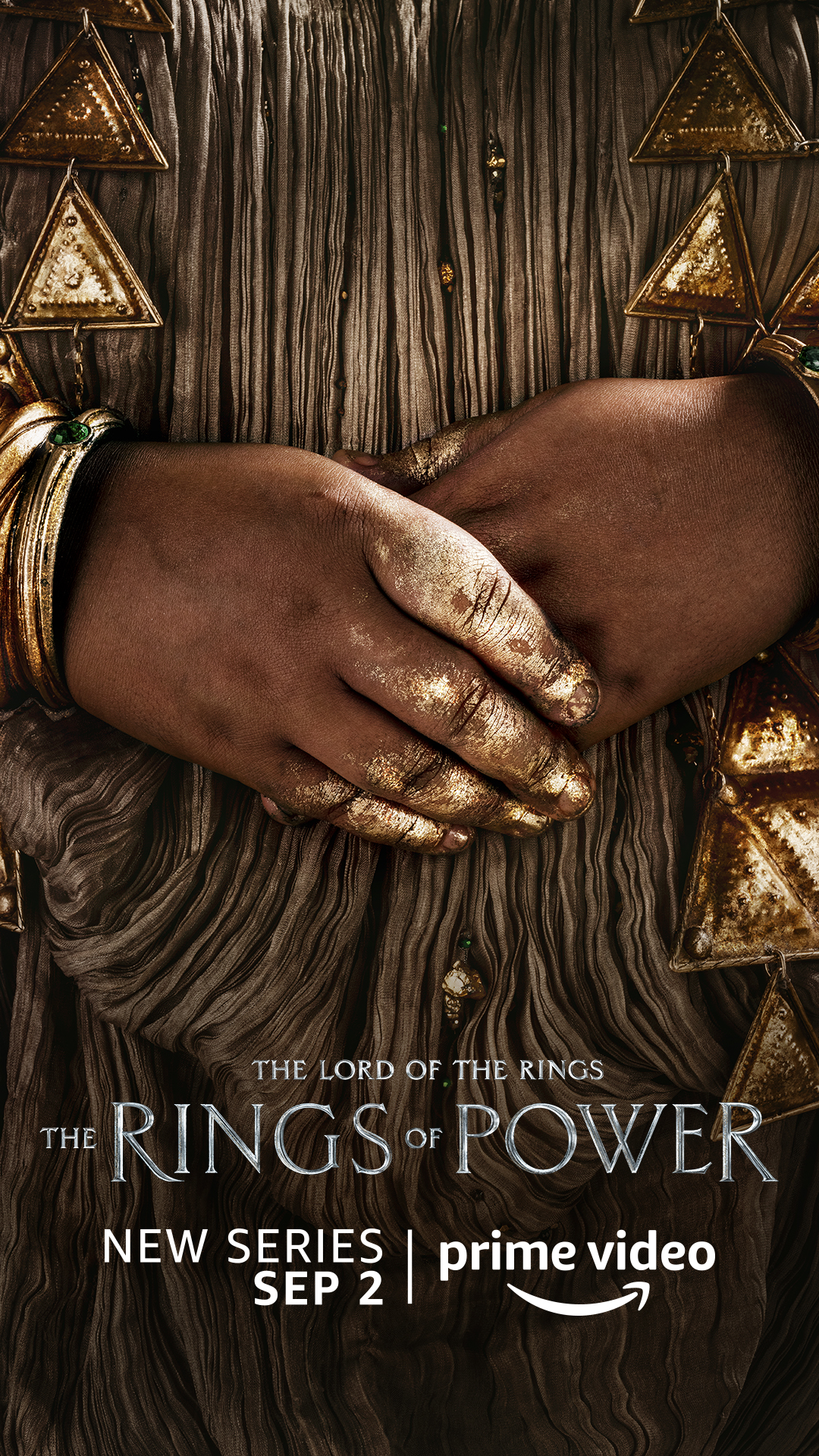 Recently Amazon released the first few episodes of the new tv show about the second age – The Lord of the Rings: The Rings of Power.
This ensemble cast fantasy show is set in the second age of Tolkien's world (the events of the Lord of the Rings happen some 3-5,000 odd years later at the end of the third age). It explores the creation of the rings of power by the elven craftsmen under Celebrimbor's leadership and the tutelage of Sauron in his guise as Annatar, "the Lord of Gifts."
However this Lord of the Rings show has become a center of controversy, along with the Game of Thrones prequel House of the Dragon and the Disney live action remake of the Little Mermaid for casting choices that gave major roles to non-white actors.
The argument from certain (bigoted) corners of the internet is that the inclusion especially of black characters in this setting is damaging to the historical accuracy of these stories. But of course this is patently nonsense.
Now the easiest way to demonstrate this is nonsense is to point out that Rome had significant African holdings and that, as early as 19 BC Roman explorers had crossed the Sahara and made contact with Sub-Saharan cultures. Furthermore from the 8th until the 15th century much of what is now Spain was occupied by an African aristocracy after the invasion of Tariq ibn Ziyad. This is all information that would have been readily available to Tolkien as a philologist and literary scholar. But, of course, for that to be relevant you would have to contend that fantasy exists to reproduce history. And that's just not the case.
While fantasy books may have a deep interest in history fantasy, by its very nature, is uninterested in producing an accurate simulation of history. This would be more properly historical study – or, if we're being generous, historical fiction. Fantasy, as speculative literature, is unlikely to have much to say about a careful reproduction of history.
Where fantasy lives instead is in the area of meta-questions regarding history: what is the relationship between history and the present? How does history inform a person's position in the world? Can history be escaped? What is the weight of history?
And these sorts of questions depend not on reproducing history but on disrupting it. The flooding of Beleriand and later of Numenor is thus informed, not just by Atlantis, but also by the flooding of Doggerland – which flooded across two periods: one in which an island was left and a second in which the island remnants were washed away, likely by a tsunami. The events in Doggerland are prehistorical ones discovered via archaeological labour and happy accident. The people of Doggerland were a mesolithic culture which we can say very little of. Certainly it would be difficult in the extreme to trace the occupants of that flooded land to any modern nation.
Throughout the Lord of the Rings the heroes are forever passing through the ancient ruins of abandoned kingdoms. Orthanc and Osgiliath, Amon Sûl and Khazad-dûm, Minas Morgul and Amon Hen are all remnants of three thousand years of history. The weapons of the Barrow Downs are likewise ancient, coming from kingdoms extinguished 1,500 years previous.
History, in Tolkien, is the ruin within which the present moment walks. How can we possibly speak of accuracy in its depiction when there has been so much clarity provided by the text that it believes history to be an incomplete and fragmentary account? This is reinforced metatextually via Tolkien's appendices which provide fragments of historical record: selected charts of lineage, some linguistics, notes on things forgotten.
Frankly I do have some complaints with how Lord of the Rings: The Rings of Power handles history because the show seems intent on compressing 3,000 years of the second age into a period the length of a human lifespan. Events that should be separated by centuries and people who lived many lifetimes apart are walking shoulder to shoulder so that the show can maintain a consistent cast. I worry that this takes away some of the most interesting things Tolkien's work has to say about history and that it, more than anything else the show has done, grounds his elves and transforms them from the semi-angelic beings they are into just guys with pointy ears and ninja powers.
However, if we are going to do away with the argument that Lord of the Rings, or fantasy more generally, is trying to accurately reproduce history then the obvious presence of people of African descent throughout the last 2,000 years of European history is also not available as an apologia. However textual accuracy becomes important. And frequently it's an examination of textual references that displays the poor reading comprehension of many bigots. After all, fantasy and science fiction is filled with non-white characters whose depictions have either been white-washed without any furor (Ged in the execrable Earthsea mini-series) or whose accurate depictions led to outcry from racists who were too poor at reading comprehension to recognize what they were reading.
Now the truth is that I don't believe any apologia is necessary to diversely cast fantasy stories. They're fantasies. We can do what we like with them. But if we absolutely must cling to questions of reproductive accuracy the question should at least be, "were there people of colour in the text this show is based on?" And the answer to that is yes. Fortunately Tolkien straight up tells us that some hobbits, in particular, are not white. Let's examine some quotes:
"In his lap lay Frodo's head, drowned deep in sleep; upon his white forehead lay one of Sam's brown hands, and the other lay softly upon his master's breast."
Here it's important to remember that this couldn't possibly be referring to Sam being tanned from working outside for so long. This scene happens just outside of Mordor after both Frodo and Sam had been travelling for six months.
Now I know a lot of the people complaining about race depictions in fantasy never leave their parents basements but take it from this weirdo farmer that it takes significantly less than six months for a tan to come in and yet Sam is described as brown and Frodo as white. They've been together six months, living outdoors for much of it, they've had the same opportunity to tan. If Sam's skin colour, in this scene, is depicted as different from Frodo's it's because he had different coloured skin. This is not the only time that we see reference to Sam's skin colour either. Sometime later, during the fight with Shelob, the story says, "As if to do honour to his hardihood, and to grace with splendour his faithful brown hobbit-hand that had done such deeds, the phial blazed forth suddenly, so that all the shadowy court was lit with a dazzling radiance like lightning; but it remained steady and did not pass."
Sam is also described as having curly hair and brown eyes. Frankly casting Sean Astin in the role was whitewashing a character who was clearly written as not white. What's more Tolkien says this is a characteristic of the largest of the hobbit clans, from whom Sam descends. "The Harfoots were browner of skin, smaller, and shorter, and they were beardless and bootless; their hands and feet were neat and nimble; and they preferred highlands and hillsides."
The hobbit clan depicted in Lord of the Rings: The Rings of Power are the Harfoots and while efforts have been made for diverse casting throughout the show it is among the Harfoots we see the greatest concentration of non-white actors. So frankly, while no apologetics are necessary to justify diverse casting, we have multiple clear references to Harfoots, such as Sam Gamgee, being brown-skinned, brown-eyed and curly-haired. How much clearer does this have to be spelled out?
But let's give authorial intent the final word because Tolkien addressed race and segregation, contextualized within his youth in colonial South Africa, very clearly. And here's what he said: "I have the hatred of apartheid in my bones; and most of all I detest the segregation or separation of Language and Literature. I do not care which of them you think White."