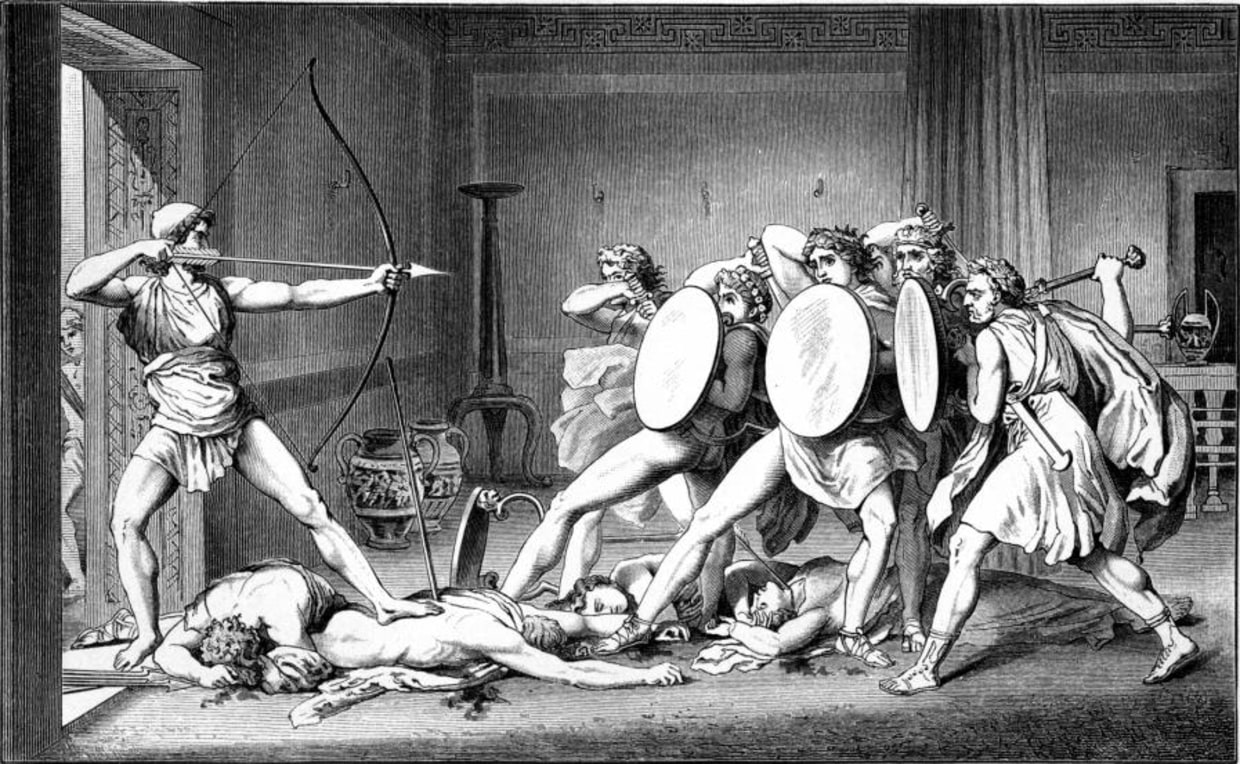 There's something of a truism that has arisen over the last decade within anglosphere cultural conversations. This goes that superhero stories are, "modern mythology." I call this a truism because the discourses surrounding the position of the superhero vis-a-vis the myth is not to ask whether a superhero constitutes a mythic figure but rather to treat the consequences of superheroes as mythic figures. This has been an unfortunate development for criticism for a few reasons. It is, of course, flatly wrong. It also elides the reality of the mythology that underpins the modern world. This is ultimately a harmful obfuscation because it obscures how mythologies inform both literature and ideology. But to pick apart the nature of this error it's necessary to step back and look at how the anglosphere has, throughout the 20th and 21st century, completely failed to understand myth.
The Golden Bough
During the Victorian period, James Frazer published a substantial study of mythography called The Golden Bough. In the Golden Bough, Frazer attempted to show commonalities between ritual and myth across cultures. He argued for an evolutionary progress of human culture from magic to religion and then science. This rigid progression of knowledge allowed for the assumption that the industrial imperial nations of Europe were, actually, helping their subjects by accelerating their progress past superstition toward technology. Furthermore, by categorizing "primitive" religions as magical thinking less advanced than monotheistic religion, efforts to convert colonial subjects to Christianity could be justified as a necessary progression to move them from superstition and toward reason.
It's difficult to overstate the significance of The Golden Bough. The idea of cross-cultural mythological commonality became central to Campbell's monomyth. Frazer's work also informed Freud's development of the Oedipus Complex – the idea that laws against incest could only arise because incest was desired traced directly from Frazer's treatment of sacred kings and the origin of law. But, of course, there's a problem here. Frazer's work was an explicitly colonial treatise. The assumption of an inevitable progress to the development of culture was a fiction formed by colonial powers as a post-hoc justification for their abuses of power.
This error was expounded upon in a particularly cogent fashion by Pierre Clastres when he said, "the assertion of an obvious evolution cannot justify a doctrine which, arbitrarily tying the state of civilization to the civilization of the State, designates the latter as the necessary end result assigned to all societies." Clastres demonstrated, rather than a necessary evolution of societies toward the (capitalist) state, that societies would find social equilibria in which they operated quite stably until some disruption occurred. This is a social version of an ecological concept called metastable equilibrium. The interesting about systems in states of metastable equilibrium is that, when they are disrupted by external conditions, these systems tend to find new modes of equilibrium. These changes in equilibrium then require far more energy input to restore to the previous state of equilibrium than was required to disrupt the state to begin with. There is no inevitable progression; there is equilibrium, disruption and some new equilibrium. The commonality that underpins the work of Frazer and later theorists like Campbell then becomes largely a fragment of cherry picking and of projection. The colonial theorist plasticizes the culture of the imperial subject and shapes it in his own understanding to fit his idea of how these subjects should behave.
Monomyth and Archetype
It should be clear by now that I hold Campbell's monomyth in no particular regard. I last visited it when I was discussing A Wizard of Earthsea and the ways in which Le Guin disrupted monomythic expectations by deviating from Campbell's heroic journey.
However the next fall-back of mythic universalists is a slightly harder nut to crack than Campbell's hand-picked selection of mythography, and that's also often the point of approach which advocates of the superhero-as-modern-myth prefer. That is the Jungian concept of the archetype. Now of course the through-line here with Jung is largely the same as it is with Campbell. Jung, as a student of Freud, was influenced by Freud's reading of myth which was, in turn, influenced by Frazer's colonialist universalism. However it would be a little bit shoddy to just declare Jung and Freud fruit of a poison tree and discard both out of turn. In one regard, Jung is much more assailable than Freud in that his concepts of collective unconscious and of synchronicity become increasingly nothing but idealistic mysticism. Jung puts forward these ideal forms of unconsciousness and suggests that they create universal patterns, a shared phenomenological shape to experience. These packets of meaning are communicated at a subliminal level be it by processes of biological heritability or by a more mystical connection between minds at some quantum level. Any specific hero then carries The Hero within it. Le Guin realizes one of these archetypical constructions in A Wizard of Earthsea in the Gebbeth – a material manifestation of Ged's own Shadow. But Jung's archetypes have the typical idealistic failure of assuming a reality that is perpetually out of reach. We can't apprehend this ideal Shadow directly but only manifestations of it – facets of a jewel that is never entirely within our experiential frame. And as these archetypes cannot be apprehended directly but instead can only be apprehended via their manifestations they become just as plastic as Frazer's colonial universalism of myth.
This plasticity and denial of the particularity of myth makes it a simple process to declare any sufficiently broad piece of art mythic. Superheroic stories are about these "archetypical" characters who engage in "epic" adventures. This makes them "mythic" and thus makes them into myth.
Except archetypical here mostly just means broad. Superheroes are the products of many hands, their tangled literary continuities are full of internal contradictions because of the divided character of their authorship. But divided authorship isn't the hallmark of a myth. Homer's Illiad may or may not have been contributed to by multiple people but it has a singular author. Likewise Beowulf's author, the Green Knight poet, Hesiod or Snorri Sturlson. The diffusion of authority that led to superheroes becoming broad, "archetypical," characters misses the reasons that the Illiad, the Theogony, the Grail Cycle, Beowulf, or Gylfaginning achieve the status of myth. Myth exists in the investment of a people into these stories to the point where they believe this particular story says something about their particular experience as a people.
The value of myth doesn't lie in its archetypical similarities but in the particulars. It's irrelevant that there is a commonality in that Pangu's bones are the mountains and that Ymir's blood is the oceans. What makes these stories into myths are the ways in which people tied their own being to these stories. The mythic doesn't lie in the general or the generalizable. It lies in the particular. Archetype points away from what makes the mythic significant.
Guan Yu
Guan Yu was a retainer of Liu Bei during the three kingdoms period of China. There is little known about his life with the historical record depending principally upon the Sanguozhi – an historical document written by the official historian of the Jin dynasty, Chen Shou, which provided a valuable justification for the succession from the Han dynasty through the three kingdoms period and to the rise of the Jin – effectively a chronicle of the time of disruption between two moments of social equilibrium. As such the Sanguozhi has to be treated as a fundamentally political document and the things it reports about Guan Yu – his loyalty to Liu Bei, the high regard Cao Cao held for him, his eventual execution by Sun Quan and his posthumous honoring by Cao Cao should be treated as specifically propagandistic works. However something odd happened with Guan Yu that did not occur with the other historical figures of the Sanguo Zhi – he was deified. Now the deification of Guan Yu was a messy process and one that also contained some rather explicitly political dimensions. Buddhists adopted him at some point after the start of the Tang dynasty as a bodhisattva and between the Song and Ming dynasties, Guan Yu became increasingly treated as a god figure within Taoism and Chinese Folk Religion. By the time the Sanguo Yanyi was written, Guan Yu was well within the popular consciousness as a god figure and the book drew from various popular depictions to create something of a canonical story of his apotheosis that combined the guardian deity elements of Chinese folk religion with the war god and slayer of demons of Taoism and the bodhisattva of Buddhism into something of a coherent character. It's from the Sanguo Yanyi that the picture of Guan Yu with eyes like a phoenix and skin as red as a ripe date arises, and this is the image that all modern altars to Guan Yu use as the basis for his depiction.
The myth of Guan Yu doesn't come from a singular author but it was seeded by one in Chen Shou and codified by another with Luo Guanzhong. He is a man who was elevated to a war god, a protector and a god of good fortune, a killer of demons and a protector of the faith. But comparing him to Gilgamesh or to Romulus misses everything that makes Guan Yu significant as a myth. The threads of Taoism, Buddhism and Chinese Folk Religion, the operas and the histories, the particularity of the political situation that gave rise to his fundamental texts, these are where the myth of Guan Yu lives. Guan Yu has a terroir, he is inseparable from the people who deified him across history and into the present. Guan Yu is a modern myth in that he is a figure out of myth who still holds mythic resonance today. The shrine to Guan Yu is an incredibly common Chinese cultural indicator but reducing him to nothing but an archetypical character means erasing the messy particularity that creates him as a subject of myth making.
Constructing a myth is something that people do together. They are the product of centuries of that call-and-response feedback that is the artistic cycle as a culture tells itself about itself and replies again and again and again. The figures within it might carry surface similarities to figures from other myths. But they are inseparable from their origins, from their particularity.
Myth and Literature
Superman isn't this. Frankly all these superheroes are far too young to have become mythic. The accretion of myth is a geologic process. Guan Yu contains strata: the Sanguozhi and its commentaries, the folk operas, the escalation of posthumous titles, the elevation to bodhisattva, the positioning of him as a war god, as a door god, as a protector and bringer of fortune, the codification of these narratives in the Sanguo Yanyi and the operas, movies and TV shows that arose from that. These strata conceal what came before but incompletely. The past of the Sanguo Zhi erupts into the Sanguo Yanyi a thousand years later. The nation building task of the Jin and the nation building task of the Ming create resonances between these strata that sing to each other like tectonic plates grinding. We have a tendency to look back at myth and say, "it started there," but if we peel back the layers that origin retreats from us. It took 2000 years to create the modern myth of Guan Yu. These broad, plastic, heroes are empty of particularity. Sure you can say of Superman that he stands for, "truth, justice and the American way," but even after a century of growth there's far too little there to say what Superman stands for. He hasn't had nearly the time necessary for Americans to fill him up and make him mythic.
George Washington, on the other hand, has. Washington, as a figure, exists in a superposition of deification and historicism not dissimilar to Guan Yu and his position as the founding leader of the American empire invests him with an immediate significance to Americans as a people. But of course the historical Washington is only one stratum of the myth of Washington along with the accretion of apocrypha such as the cherry tree story and the lionization of him as one of the "founding fathers." Washington begins with a singularity of authorship in Mason Weems, but explodes into something of a possession of all Americans. He stands in for the particular experience of being American and as the nature of Americanness as changed, so too have strata accreted onto the myth of Washington to accommodate that transformed understanding.
Superman is literature. He's a story told by authors to an audience. What's more, the careful ownership that DC maintains over Superman, the fact that he remains just one owner's piece of art constrains him from ever achieving a truly mythic resonance. Nobody owns the mythic resonance of American "Founding Fathers." The civic cult is far more diffuse than that. A subject escapes literature and becomes myth when there is sufficient weight behind them that they stop being property of a person and become, instead, a reflection of a people. The mythic contains within it all the particularity of the people who elevated that myth and being modern myth depends on a depth of history that is contiguous with the development of the people holding that myth. There's an arrogance present in these creators of broad archetypical stories that are all so hollow and plastic in thinking they can conjure myth out of declaring it so. But the mythic, the truly mythic, will repel these idealistic declarations.