I am throwing this up really quick just as a situation update to my recent post on the ethics of participating in a fan convention with an arms manufacturer sponsor. The chair of the DisCon III concom, Mary Robinette Kowal, released an official statement yesterday and it's actually… pretty good all things considered.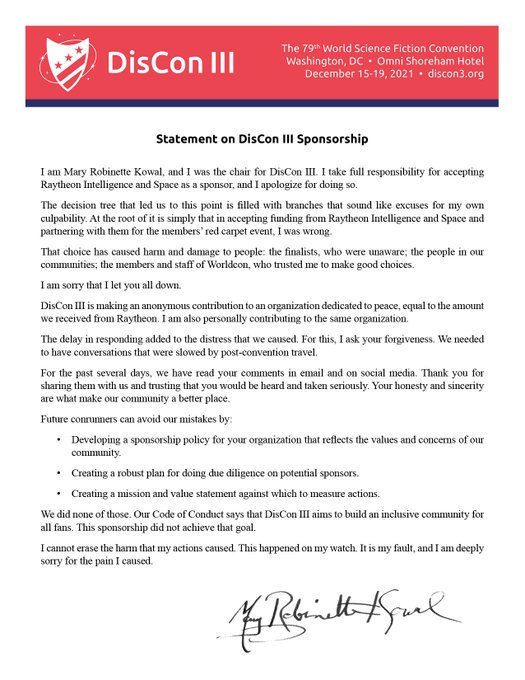 Now a few notes, mostly positive. This letter did several things that were required. First, Kowal has taken responsibility for this action personally. One of the things I was worried about previously was how the loose and rather byzantine organization of Worldcon created a risk of a diffusion of responsibility that passed the moral burden to the aggregate membership rather than a single person. I've said elsewhere that, based on my past professional experience in non-profit advancement teams, major sponsorship agreements don't get approval without going up to senior leadership within the non-profit so it was always going to come back to her. I'm encouraged she recognized this and took that responsibility.
Second, while a full accounting of the process might have been interesting from a root-cause-failure approach I appreciate that Kowal elided on specifics because she didn't want to be seen as making excuses. This is actually probably the right course of action all things considered.
Likewise the fact that Kowal declines to mention the charity she and DisCon III have selected by name is actually a good choice. It is good for two reasons: the first because it takes out any opportunity for praise over the donation. This is an act of restitution and the removal of the ego-effect of being probably a significant donor is a good choice. The second is because the ideological landscape with regard to NGOs is pretty fraught and even a slam-dunk donation (like to War Child, for instance) probably would have upset somebody so from the perspective of resolving the current social conflict an anonymous donation was a reasonable choice.
Finally it is good that specific recommendations for future con organizers were made. We all wanted transparency and this is part of that.
The main two pieces of missing information that would have been good to include here are a timeline of when the sponsorship deal was signed and when it was publicized and the amount of the donation. However the former is very minor and the latter is important but will likely come out eventually.
There is one other item I want to address here and that is the question over why Raytheon attracted such ire when the other banner sponsor – Google – is also bad. Again this ties back to my discussion of ethical ambiguity and ethical bounds. Google is not good. They're an evil company that does bad things. But, as we discussed before, the same could be leveled of any organization able to throw around "major sponsor" money.
There is a powerful left-critique of the NGO that treats the non-profit as a form of social control whereby the wealty are able to invest in the direction of the power their wealth represents. In this frame of treating charitable giving as being a form of directed power relation we cannot remove the non-profit and the volunteer-run organization from the superstructure of capitalism as its base economic conditions are inextricably bound to that superstructure. The non-profit, under capitalism, is an organization within capitalism. This is where "no ethical consumption under capitalism" kind of actually lives. However, as I said, there are some ethical distinctions that don't partake in the ambiguity of operating within the interior of capital as all non-profits do. And, with a product of imperial death, Raytheon is beyond all possible ethical ambiguity in a way that even pretty wholly awful companies like Google are not. Simply put, arms merchants are a special kind of evil that goes beyond even the mundane evil of Google and its ilk. As a communist I would bring the whole edifice down and Google is as much a target as Raytheon. But I am a communist living within the bounds of Capitalism and as such I need to be able to draw ethical distinctions within that territory. To put it in theoretical terms, the Socius is a field of inscription. It exists in being marked. The territory within Capitalism is delineated in a way that the outside of Capitalism simply is not by dint of its non-being. As such moral distinctions within Capitalism are inevitable. And so, yes, the donation from Google is also bad but, no, it was not hypocritical to be especially upset by the donation from Raytheon.
Last word on this subject from me: I don't particularly like Kowal and I think her leadership of this concom was pretty disastrous between this and the increasing likelihood that Worldcon was a COVID superspreader event (17 possible exposures identified and counting). But, as I've said before, no ethical failure precludes the possibility of future right-decisions and I think this letter is a very positive first step. I think we should, on the left, be willing to acknowledge that this was a good first step and continue to kindly encourage accountability and restitution from the concom as a whole and Kowal in particular. I also think we should probably all lay off of the finalists who were caught flat-footed and may have responded defensively to being thrust into an uncomfortable position.